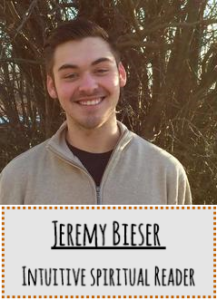 01/22-Sunday– Intuitive Spiritual Readings with Jeremy
Jeremy is an Intuitive Empath, which means that he uses his Intuition (the ability to acquire knowledge without proof, or conscious reasoning) and being Empathic (being able to sense/feel what others are feeling, either emotionally, physically, spiritually, mentally or energetically) to conduct a Reading. During a session, Jeremy utilizes a system his Guides have taught him. This includes a blend of pulling Crystals, Oracle Cards, reading one's Energy Fields and Channeling Intuitive messages from his Guides and yours. In session, Jeremy becomes a Spiritual Medium, a bridge between this World and the Spirit World. The energies he may sense around you as Guides, and connect you with can range from Passed loved ones, Angels, Ascended Masters, Spirit Guides, Saints, Animal Totems, your Higher-Self and anything in between. This depends on which type of energy is needed to bring the message through. A reading with Jeremy is recommended for those that feel stuck or looking for confirmation(s) on a specific subject or issue that one is struggling with or if you are looking for direction and guidance, but there certainly is no need for a specific issue to receive a reading. Jeremy will share messages from your Guides, and give you tools to help you take the next steps on your Journey. This will help with one's healing process as well as the Evolution of one's own spirit. Jeremy is honored to be utilizing his gifts to help others & is grateful to be a part of your Journey.
12-5pm
Cost: 20 minutes for $30
Please call us to schedule your appointment!
Testimonials-
"Jeremy has a real kind and gentle spirit that I noticed right away. Getting a reading from him was one of the smartest things I have ever done. He was the push I needed to move forward in living my life purpose. I am so looking forward to my next reading from him! -AJaye"
"I must say that Jeremy, who is a reader at Holistic Happenings in Tinley Park, is an outstanding and gifted new reader on the scene. He is very young, but his readings reflect a maturity beyond his twenty-one years. There is no doubt he is receiving messages and directions and insights from the other side. He astounds you with his right-on input regarding your family and friends who have transitioned. It is so comforting to receive direct communications when he channels Archangel Michael. This opens one up to new directions, and the love from the other side just emanates from him. I am telling all my friends, most of whom are metaphysical enthusiasts like myself, to utilize the in-depth feedback that Jeremy will provide. His readings leave you with a sense of being guided and in good hands with your angels, spirit guides, and your loved ones assisting you in your earthly journey.  Do not miss an opportunity for a reading! -Rose "
"I first met Jeremy – an intuitive reader at Holistic Happenings in March of 2016.  I found Jeremy to be very intuitive, knowledgeable, and an expert at his craft.  However, what has drawn me back to visit Jeremy is his kind heart, positive attitude, and his instinctive desire to truly help people with his amazing gift. Jeremy has impacted my life by giving me the necessary tools I need to make some positive life changes I was seeking.  He is an incredible human being with a truly amazing gift. -Audrey"
"I met Jeremy for the first time today for an intuitive reading. He definitely has a God given gift to be able to hear messages from our loved ones who have crossed over. I was amazed. I've had psychic readings before, but I have never met anyone like Jeremy. I am so happy that I have found Holistic Happenings & Jeremy. -Joanie"